I'm Steph
 and welcome to my blog Pastel Prettiness®️️
I wanted to share a little bit about myself and what you'll find here on my blog.
I absolutely adore all things girly and pink.
I have a love for dresses, shoes and handbags.
I also love glitter, and add it to everything I can.
I am a licensed Cosmetologist. I wanted to go into this industry for two reasons.
One so that I would be an expert in all of the things I love: Hair, Nails and Skincare.
The second reason was that I wanted to help people feel beautiful.
I have now been a hairstylist for over 13 years at the same salon.
Even though I enjoy what I do, I have a creative side that just wasn't being expressed.
I have always had an eye for design and fashion yet was limited in the ways I could share those ideas.
For a long time I dreamed of creating a blog about my other interests that would help and inspire others.
Yet it was always easier to just think about it and not actually put in the hard work to make my dream come true.
This blog is a result of me pushing past my fear and finally doing something about making my dream a reality.
For over a decade I have been helping countless people feel better about themselves, and look their very best.
Now through my social media accounts and blog I am able to share my beauty knowledge and signature girly style with a much larger audience.
I will be posting about everything from cosmetics and girly fashion style to pretty home decor and occasional travel adventures.
If you have any suggestions for posts, I would love to hear them!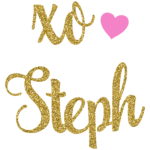 Contact me:
Disclaimer:
I may make a few cents if you click on some of the links on my blog.
Some of the products I write about have been gifted to me but my opinion is always 100% my own.